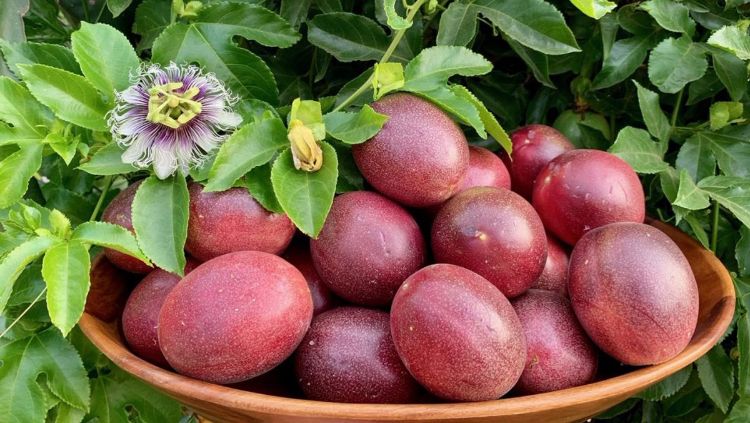 The dry season in the Central Highlands is hot and sunny for a long time, with rising temperatures causing passion fruit trees to often lack water. Therefore, people need to water fully and promptly for passion fruit trees to grow and develop well, limiting the effects of weather. When passion fruit trees lack juice, the fruit will become soft, the skin will be wrinkled, the flower setting rate will be poor, and crop productivity will decrease.
To water passion fruit trees effectively in the dry season, people need to apply the following measures:
Regularly check soil moisture by observing and checking the soil surface. Make sure the soil does not dry out.
Water in the early morning or late afternoon. Avoid watering at noon because high temperatures and hot weather will cause heat shock, affecting passion fruit trees.
Drip irrigation combined with overhead sprinkler irrigation is an effective method because it both saves water and provides timely water for passion fruit plants.
Van Xuan Agri hopes this information will help farmers care for passion fruit trees. Those who are interested in learning about and ordering quality, reputable passion fruit varieties with clear origins, please visit HERE.
Or you can also contact the hotline directly: 0862.4567.55 – 079.248.7777 to receive advice from Van Xuan Agri staff on the most suitable tree varieties.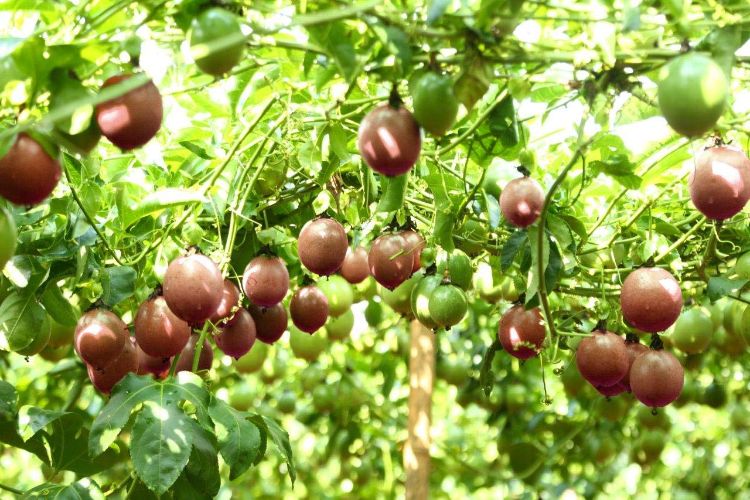 On the afternoon of March 29, the Department of Agriculture and Rural Development, Gia Lai Provincial Cooperative Alliance and Nafoods Group Joint Stock Company signed a Memorandum of Understanding on cooperation on the development of passion fruit and vegetables according to the Decree No. Project to develop vegetable, flower and fruit tree production in Gia Lai province until 2030, with a vision to 2040.
According to Mr. Luu Trung Nghia, Director of the Department of Agriculture and Rural Development of Gia Lai province, as of early 2023, the passion fruit area will be about over 4,000 hectares; The area for products is more than 3,000 hectares; Average yield reached 451.5 tons/ha; Output reached nearly 150,000 tons. It is expected that by 2025, the area of passion fruit in the province will be about 20,000 hectares. Passion fruit trees are grown mainly in districts such as Chu Prong with nearly 822 hectares, Ia Grai with 650 hectares, Dak Doa with 620 hectares, Chu Se with 507.7 hectares, Chu Pah with 500 hectares, Mang Yang with 382 hectares, and K'bang with 239 hectares.
According to assessments of Gia Lai province's agricultural sector, the average investment cost for 1 hectare of passion fruit is about 160 – 170 million VND. After 8 – 9 months of planting, passion fruit harvests the first batch of fruits, in November – December, harvests the second batch of fruits, in the 14th month, harvests the third batch of fruits and collects and cleans the garden around approx. 16th and 17th months after planting. The average yield of passion fruit is about 40 – 45 tons/ha. The current average selling price is about 12,500 VND/kg. After deducting costs, the profit is about 360 – 370 million VND/ha.
Mr. Nguyen Manh Hung, General Director of Nafoods Gruop, said that currently on the market there are many different seed production facilities, however, Nafoods' seedlings are produced to ensure stability in productivity and quality, especially especially virus management on seedlings. Nafoods is the only passion fruit seed production unit in Vietnam that masters molecular analysis technology to test viruses on passion fruit trees.
After 9 years of bringing seedlings to the market, from a scale of 200,000 seedlings/year, the business is now supplying 12 million seedlings/year to the market, accounting for 60% of the market share of Vietnamese passion fruit varieties. Currently, Nafoods passion fruit variety is trusted by farmers for its productivity and quality to meet the market from fresh fruit to processing.
Mr. Nguyen The Hung, Chairman of Gia Lai Provincial Cooperative Alliance, hopes to turn Gia Lai into the purple passion fruit capital, developing passion fruit into a key crop. However, for passion fruit trees to develop sustainably and have stable output, it is necessary to focus on organizing connections between businesses – cooperatives and farmers, from seeds, fertilizers, purchasing, processing and export.
A representative of the Plant Protection Institute (Vietnam Academy of Agricultural Sciences) said that passion fruit is not a new crop, but due to pests and diseases, passion fruit trees have not achieved the desired effect. Through research and study, the reason is that passion fruit trees are infected with viral diseases such as crown worm, leaf curl, blister rot, yellow leaves… Proposal to ensure safe production of passion fruit trees, we need to focus on developing and building Build many top-of-the-line orchards that have been inspected to be disease-free. Before planting, people should buy seeds with quality certification. Then, you must closely follow the tree's life process to detect pests early, if any, and coordinate with the Provincial Plant Protection Department to prevent pests and diseases on passion fruit trees.
After learning about the capacity, potential and actual needs, the parties agreed to sign a Memorandum of Understanding on cooperation in developing passion fruit in the province according to the Project on developing the production of vegetables, flowers and fruit trees above. Gia Lai province until 2030, orientation to 2040, implementation period from 2023 – 2026.
The memorandum of understanding focuses on consulting on the establishment of "Gia Lai Province Passion Fruit and Vegetable Association"; Promote the proposal to build a testing center and develop geographical indications for Gia Lai passion fruit. At the same time, advise and guide on ensuring food safety and hygiene in the production and processing of passion fruit; Quality management of passion fruit seedlings at local passion fruit production establishments.
Nafoods Group Joint Stock Company supports authorities in inspecting and testing the quality of seedlings, especially testing for viruses on passion fruit seedlings. At the same time, the parties build programs and agricultural extension models on passion fruit that are highly pervasive and reach people in remote areas through local agricultural extension networks with farming consulting programs, mobile pest control or seminars on television, on digital platforms. In addition, the parties also coordinated to organize a ceremony to export the first official shipment of passion fruit to the Chinese market.
The memorandum of understanding also mentions coordinating with localities to introduce cooperatives in Gia Lai province to participate in cooperation and association with Nafoods Joint Stock Company; Consulting and mobilizing cooperatives to develop raw material areas and form chains of production and consumption of passion fruit in the province; Deploying the project "Application of digital technology in management and development of the value chain of passion fruit growing areas incorporating the model of Agricultural Extension – Smart Cooperative".
The memorandum of understanding also addresses the issue of working with localities, cooperatives and groups
Collaborate to agree to sign a contract to link production and consumption of passion fruit in the province; proactively sign contracts to supply seeds, materials, technical support for farming and digital applications in management and development of growing areas, contracts for agricultural product consumption with cooperatives and cooperative groups, ensuring quality.
At the same time, promote the construction of a high-tech seed center on the basis of rearranging the existing seed center of Nafoods Group Joint Stock Company and other parties, calling for additional investment from outside in technology and science. technical education, financial resources, markets and appropriate policy mechanisms.
(Source: News Newspaper)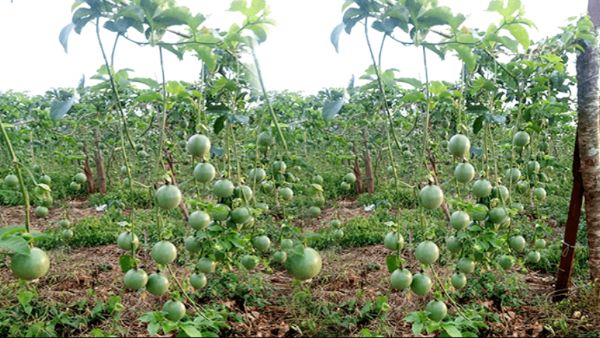 Growing organic passion fruit is a common trend among farmers today. Why? Because this tree is easy to grow and care for, it brings high economic efficiency. Farmers in Vietnam are also expanding passion fruit production for export to the world. But for passion fruit trees to meet high standards and meet customer requirements, planting and care need to be very careful. Below are techniques for growing organic passion fruit that meet export standards that you can refer to.
Standards required to grow organic passion fruit
To grow organic passion fruit successfully, there are 3 factors that Van Xuan Agri experts advise you to remember:
Climate and soil requirements:
Passion fruit is suitable for tropical and subtropical climates, so it is suitable for the climate in Vietnam. The plant needs to be planted in a place with an average temperature of 18 to 30 degrees Celsius, with enough light and shelter from the wind. The Central Highlands region is one of the most suitable places to grow passion fruit. Suitable soil for passion fruit ranges from red basalt soil, feralit, light loam soil to old sandy soil, with pH from 5.5 – 6.0 and good drainage.
Choose the right organic passion fruit variety:
Currently on the market there are many types of passion fruit varieties for you to choose from. It is necessary to choose good varieties, ensure quality, have clear packaging, labels, and origin to ensure the seedlings are disease-free, have good resistance, and limit common insects.
Planting time:
Passion fruit can be sown at any time of the year because it is easy to grow and care for. The most suitable time is from April to June every year, during the rainy season in the Central Highlands for the tree to grow better.
Instructions for preparing soil for growing organic passion fruit
To grow organic passion fruit trees successfully, you need to prepare a smooth, loose layer of soil on the surface by mixing it well with a little composted manure or a little phosphate fertilizer. However, you need to limit using too much fertilizer to avoid burning the roots of seedlings. After digging the hole, you need to sprinkle lime and stir well to treat the soil for about 1 month.
Organic passion fruit planting density depends on terrain, soil type and trellis type, but the appropriate density is 3 x 3m. If passion fruit trees are intercropped with other plants, the density can be maintained at 5 x 5m, 5 x 4m or 5 x 4m.
When the soil has enough moisture or has prepared an irrigation system, you need to add 0.5-1kg of phosphate fertilizer to 1 root and stir well before planting. To prevent flooding during the rainy season, pay attention to planting higher than the surface of the hole. You should also buy plastic cups to cover the plants to limit cricket bites and pour Bio medicine immediately after planting to prevent termites.
During the rainy season, you should spray your plants to prevent fungal diseases every 3 days. For plants to grow well, apply NPK 1-2 times a month and add organic fertilizer to plants once a month. At the stage of dividing branches and raising flowers and fruits, add flowering fertilizers, micronutrients, and other types of fertilizers to the tree.
How to care for passion fruit trees to grow quickly and healthily
To properly care for passion fruit plants, you need to do the following:
Regular watering: Passion fruit needs to be watered regularly to maintain soil moisture and help the plant grow better. However, you should not water too much to avoid flooding the plant.
Fertilize periodically: Fertilizing is a way to help passion fruit trees develop and grow better. You can use organic fertilizers such as manure or other organic fertilizers to fertilize the plants.
Check and treat pests: Pests such as leaf rollers, stem borers and rust can harm passion fruit trees. Check regularly and use pesticides to treat them if they appear.
Pruning: Regular pruning helps remove old, weak and ineffective branches, facilitates the growth of new branches and encourages the tree to produce flowers and fruit when growing organic passion fruit trees. When old branches are removed, new young branches can grow at a faster rate and are evenly distributed across the trellis surface, creating a more uniform and manageable tree structure. During the rainy season, pruning is considered an important activity to minimize the spread of pests and mold on trees.
Pruning leaves also helps increase light and ventilation in the trellis, making photosynthesis more effective. After harvest, proper pruning is important to maintain the health of the passion fruit tree and help it recover quickly from growth and fruit production.
You should cut off all the branches on the side of the trellis that have produced fruit to reduce the load on the tree and create conditions for new branches to grow. Leave the trunk and branches from the ground to the trellis to keep the tree growing and allow it to recover quickly. If the passion fruit tree is not completely pruned by the end of the year, it may experience growth and development problems. Weak old branches will hinder the growth of new branches and limit the tree's productivity.
Adjust light: Passion fruit plants like strong and abundant light. If the plant is grown in an area that does not have enough natural light, you should use LED or other grow lights to support the plant.
Periodic care: You need to regularly protect the passion fruit tree from pests and provide the tree with enough necessary nutrients to help it grow better.
In short, properly caring for passion fruit trees will help the tree grow better and produce high yields. In addition, you need to regularly check and promptly handle problems with pests, light, soil and water to ensure the health and growth of the plant.
In addition, you can also research some more information about high-yield passion fruit varieties before you start ordering products.
Where should I choose passion fruit varieties?
If you are a farmer looking for quality passion fruit varieties with guaranteed origin, come to Van Xuan Agri – a unit specializing in providing reputable and quality passion fruit varieties. We are committed to providing you with the best passion fruit varieties for growing organically such as Nafoods 1, Tai Nong 1,… Helping you harvest many high quality products with high economic value. than. Please contact us immediately for advice and orders!
Address: Village 6, Truc Son commune, Cu Jut district, Dak Nong province
Hotline: 0862.4567.55 or 079.248.7777
Email: info@vanxuanagri.com